"I love the courtyard and I think this place is spotless. The rooms are spacious and the staff is very friendly."
– Mark Wang
---
"In our Creative Corner group today, I had a great time making a sand art mandala. I am so pleased with my stay and recovery here! Thank you, Jewish Home!"
– Betty Dreyfus
---
"I cannot thank you all enough for what you did for me! I have been at The Jewish Home for almost 2 months and I am also a retired Nurse, and I would like to say with all my heart how amazing the staff at The Jewish Home are. The nurse's aides Andre, Larry, Melanie, Mercedes and Ashlee. The nurses Donna, Brandi, Lourdes and Josephine. The Therapists Apollo, Meg, Kash, Paige and Jordan. The Social Worker Samantha who helped me with my discharge plans. Thank you to every single person who helped me regain my strength and keep my mind going!"
– Patricia Shapiro
---
"I don't want to leave! This was my second time here and the staff all treated me like I was their mother! I don't even want to leave, so this is very bittersweet for me. Thank you to all my Therapists, Aides, Nurses, Housekeepers and Dietary!"
– Phyllis Rullo
---
"I have been here for three years, and the people here are just beautiful. You meet a lot of nice people here; the residents and the staff. It was my decision to come here for a long-term stay, and I'm very comfortable. It's the truth hon, I do not have one complaint with the nurses or the aides. My room is always clean and the food is good. I really am happy here. Always been active- there's always something to do and always someone to talk to."
– Deloris L.
---
"I thank god everyday I came here, here is where I'm getting better! I have MS for 41 years and I have learned that I need to keep up with my physical therapy so I can stay moving. I've been down and I'm getting up again thanks to Jordan, serge and the amazing therapy team at the Jewish home! I get therapy 5x a week, my aide Melissa is wonderful and I'm going to miss everyone when I go home."
– Catherine Modico
---
"I receive physical therapy and occupational therapy five times a week, sometimes six! It's amazing! Working with Jordan and Nikki for the last two weeks, I have made so much progress. I came here from Staten Island because I know this is the best place to get me back on my feet." 
– Catherine Modico
---
"I had surgery and now I am here for therapy. I work with Jordan, Page, and Megan. They are great and really helping me so I will soon be able to walk again. This place is clean and beautiful, and all of my visitors are impressed when they get here." 
– Pat Shapiro
---
"I adjusted real fast, the aides are great and the nurses always come. They all talk to me and make sure I'm not alone. I love seeing our calendar of events, I know bingo is on Wednesday and Sunday and all these different activities get me out of bed and motivated to do more. I get to watch my favorite T.V. Shows like Seinfeld and friends with my friends – I'm the Joey of the group! Thank you to TJH for making this easy for me."
– Steven Landsman
---
"My days here are good, I look forward to my daily fitness class, Bingo, our horse races and the parties where we get to celebrate each other! Thanks for the care and attention! Only good things happen here! The care is great, the food is good – Stew is my favorite."
– Jerry Plotkin
---
"This is my third go round and every time I get better and stronger! The therapy team is fantastic, and I would like to recognize Jordan, Nikki, Serge, and Eric who have been working with me directly for the last six weeks! My nursing team is wonderful much thanks to Mariana, Michelle, and Danielle! The activity department is great at keeping us busy by providing karaoke, bingo, virtual reality, board games, and even a Casino themed day!" 
– Toby Lapin
---
"The Jewish Home keeps you going! They have it all here! There is a general sense of love between the residents and the staff. You're never alone here and everyone is so nice! There is always someone to talk to like the therapists, social workers, and recreation team!"
– Michael Fazio
---
"I had the best rehab ever and everyone was so helpful! When I came, I never thought I would get to where I am now. I was taken care of with love and it pushed me to get better. I am very grateful for this place. The nursing care was the best and all my needs were taken care of. I will be back for rehab for my other knee."
– Alice Rubenfeld
---
"I am here for 2 1/2 years- and let me tell you when I arrived, I was in bad shape. This is an Exceptional Place – the wing I am in has wonderful nurses and the CNA's working on the floor are terrific as well. I never had a bad thing happen to me! Everyone is wonderful to me. This is the right place for me."
– Delores Lederman
---
"I came to the Jewish Home for Rehab and decided to make this my new home. The Russian Language Program has helped make this an easy decision, as I feel comfortable in an environment that understands my cultural needs. It has also introduced me to other Russian speaking residents with whom I enjoy spending time with."
– Sergey Lyulyev
---
"The rehab was very good! I had a problem with my arthritis the last couple of weeks and the nurses helped me. They were very helpful. The food was very good, and everything was perfect, including the weather. The nurses were very kind and very helpful. The PT and OT were very kind and patient. I hit a snag with my arthritis at the end. I am feeling very good to go home. My sons are helping me with the layout of my house, but it's not going to be as nice as The Jewish Home."
– Isabelle Rosell
---
"I'm happy to be going home but will miss all the wonderful staff that helped me to get back on my feet. A special thank you to my Unit Manager, Donna, Nurse Paulette and Larry, CNA. You are all the best at what you do! Thank you to everyone at The Jewish Home!"
– Steven Pakula
---
"I am grateful for visitors being allowed in and having our wonderful courtyard to chat with them in! I have friends and family nearby while I myself am from Staten Island. I chose The Jewish Home to be close to loved ones and because of your private suites. I loved your hair salon and I complemented Paula for a job well done. Jordan, my PT, is excellent and he is helping me regain my strength and Sergio from OT is wonderful and an absolute pleasure to work with!"
– Francine Lorenzo
---
"The staff is always so responsive to me, I press a button and Oh! My nurse is there! I'm here at The Jewish Home because I fell. The physical therapy team here are helping me get stronger and I feel it every day. The best part of being at The Jewish Home is how kind everyone is to me and my private room! Thank you to everyone helping me!"
– Rose Vitale
---
"Thank you to all of the staff at The Jewish Home for taking care of my mother Lorraine. It was very much appreciated! She enjoyed the last 5 months of her life thanks to you. She is having her brain donated to Parkinson's research as it was her wish. I am leaving this bookshelf and stuffed animals behind, hoping another resident can enjoy them. Love,"
– Anthony
---
"Therapy was wonderful, my therapists Serg and Maureen had me in tears when I took my first steps. The staff on the unit were all excellent. Everyone really focused on Safety with me since this was my second hip replacement.
I chose The Jewish Home for Rehab & Nursing because my daughter was very happy with the care my ex-husband received when he was here."
– Beverly Olivo
(Beverly Olivo in Picture with Dr. Miller-Smith, Serg – Occupational Therapist and Geri – CNA)
---
"One of the definitions of the word home is: "A place of refuge, rest, or care." The word refuge is: A place of safety, shelter. Those definitions are what I have personally experienced at The Jewish Home.
My deep seeded appreciation for the tender care and warm hearted concern my mother experienced will always be fondly remembered.
My mother experienced not only the professional care and support she needed, it was always with sincere concern for the best possible outcome.
From the housekeeping staff that always kept her room spotless to those on the Nursing team that cared for her personally, I'm so appreciative. Every CNA that cared for my mother's personal hygiene performed their care with total respect, lovingly keeping in mind my mother's personal dignity at all times."
With warm-hearted regards,
– Patrick McCabe
(Donna Breese – Sub Acute Unit Manager and the pt Rose McCabe's son Patrick in photo)
---
THANK YOU TO THE JEWISH HOME!
All of the staff at The Jewish Home for Rehabilitation & Nursing were just wonderful! God bless everyone at The Jewish Home for all you do!
– Evelyn Fina
---
I have such mixed feelings about leaving The Jewish Home. I really enjoyed my time here and the rehab was phenomenal. My therapist Amali was so special and realized that I am gifted because of my love for people. Amali put together a group of us in therapy which made it more enjoyable for everyone. I even told the therapist Rhianna that I would take this picture for her if she let me try on her engagement ring. I'm a retired nurse and your staff are all really hard workers; I would sit and watch them work. I would attend activities when I wasn't in rehab.
I hope to come back to The Jewish Home and volunteer my time in the Long Term Care Unit.
– Joan Lamb
---
NO ONE CAN SURPASS THE JEWISH HOME'S EXPERTISE!
"I would like to thank from the depth of my heart the wonderful, compassionate nursing staff which includes all the RN's, LPN's and CNA's. The care they gave me was promptly delivered and the professionalism they showed me gave me the encouragement I needed to heal. Their positive attitude lifted my spirits and helped with my ailments. My heartfelt appreciation to the compassionate therapy staff. No one anywhere can surpass their expertise and caring to help me rehabilitate. I have no words to say how outstanding the staff was. I would highly recommend The Jewish Home to anyone who needs the care and I would like to give a special mention to Raniel and Michelle, my therapists. I would like to express my thanks to Shalom and Ben for making Shabbos so enjoyable. I would not want to forget all the wonderful staff who helped me; Samantha, Regina, Mara, Jonathan, Ariel, Andre, Melanie, Annie, Jacqui, and Jessica."
– Ephraim Schwinder
---
THE JEWISH HOME WILL ALWAYS BE MY CHOICE
"I cannot state how wonderful an experience it has been during those times this past year when my wife's mom, Adrien Tannenbaum, was cared for at your facility. It was an unfortunate year for us having lost Adrien's husband Arnold, and Amy's sister to Covid. It was through those months of hospital care and later rehab at The Jewish Home, that Adrien flourished. Unfortunately, she had to return later in the year after fully recovering from Covid due to other conditions. I have had mixed experiences with other healthcare rehab providers that have cared for Adrien and her husband, and for my parents when they were ill, and I must say that the care given to Adrien was exemplary. From admission to discharge, the people referenced above made our experiences with The Jewish Home pleasant and fruitful.
I will never forget the loving-kindness shown to us during Covid when we could not see Adrien. The facetime conversations were enormously helpful for us all. The therapists called regularly to report on her progress, while the nurses and aides were kind and attentive. Adrien even said that she enjoyed the food! Rest assured that if ever we are in the market for a rehab facility, The Jewish Home will always be my choice. Thank you for the exceptional care and loving-kindness."
–David Gorenstein
Son-in-law of Adrien Tannenbaum
---
I Said I Want To Go Back To The Jewish Home!
"I was recently at The Jewish Home for Rehab and was able to be discharged home. Unfortunately, I found myself back in the hospital and when the doctor recommended I needed rehab, I said I want to go back to The Jewish Home. I asked the Hospital Social Worker to see if I could go back to the same unit. To my delight, they not only put me back on the same unit but my old room was available and they thought enough to put me there, so I would have the same aides and nurses. The staff is all very friendly and the therapy helped me immensely. I couldn't even lift my legs when I got here and now I can go back home independently to my cats."
–Sharyn Hochman
---
"When my husband's doctor recommended physical and occupational therapy, we began researching facilities in our area. Most of our children and grandchildren live in Lakewood and they inquired concerning facilities near them. As a result of their search, we discovered The Jewish Home, close to Lakewood, in nearby Freehold.
A short twenty-minute drive from Lakewood on beautiful country roads, The Jewish Home is a complete rehab facility with all services available, therapists, nurses, doctors, aides, laundry and all associated needs, a wonderful chef, a mashgiach, and a concierge for any issues a guest may have. My husband spent five weeks at The Jewish Home and upon discharge was furnished with recommendations for continued therapy at home. Our time at The Jewish Home was very pleasant, the outdoor areas, walking paths, and patio well-maintained."
– Mrs. Mendlowitz
Mr. Mendlowitz is pictured above with Dr. Steven Neuman, Director of Physiatry, Doctor of Physical Medicine & Rehabilitation
---
After contracting COVID 19 over 3 months ago, Kathleen, a retired nurse supervisor, and Bud Uhrig, sweethearts for 62 years chose The Jewish Home of Freehold for their recovery and rehab prior to their return home in time to celebrate Valentine's Day.
"My compliments to the hardworking staff. I enjoyed the time spent with them. The rehab department was outstanding, as well as Nava and the activity department who kept us busy and constantly did room visits. Rabbi Langer's visits and friendly smile made a very challenging time so much more enjoyable!"
–Kathleen
---
"My father was in the hospital after having a TIA and too weak to go home alone. I didn't know what to do so I called Raquel on a Sunday. She called the social worker at Penn Medicine Princeton, and within 30 minutes she got the paperwork on my dad and verified his Medicare Coverage. Before I knew it, he was at The Jewish Home. I knew I only wanted to have my dad go to The Jewish Home because I am a nurse here and could monitor his progress. Everyone was so great to him and the therapy he got was amazing. After a 3 week stay my dad was ready to go home stronger than before. I'm so happy I work with such great people that make a difference in people's lives!"
– Rob Wilson
SON OF RESIDENT MICHAEL WILSON
---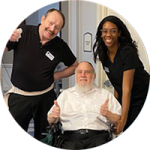 "Thank you to the staff at The Jewish Home for Rehabilitation & Nursing! Everyone was cordial, friendly and receptive. My stay was extraordinary and everyone was focused on patient care. The meals are excellent and served warm and on time. This is a special hidden restaurant here in Freehold! The nursing staff was extremely accountable and responsible. They went out of their way to make sure that each patient receives the care they deserve."
– Stuart Kolko
---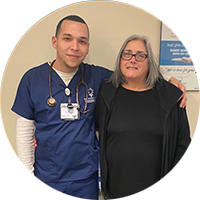 "I'm so happy I found The Jewish Home for Rehabilitation & Nursing!
My doctor, Dr. Snepar, recommended that I go to a facility for IV antibiotics and some rehabilitation. At the time, I had a friend who was also getting rehabilitation at The Jewish Home and said he really liked it. I had an excellent experience at The Jewish Home for Rehabilitation & Nursing, from the care the nurses gave me who attended to my IV to the aides who helped me with my daily activities. If I rang my bell, I never waited longer then 1 or 2 minutes. The staff was so friendly and caring. Therapy was also very good and helped me gain my strength and endurance back.
– Marjorie Schochet
---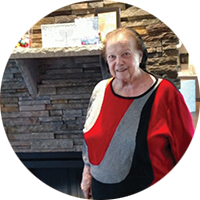 "I came to The Jewish Home almost two months ago after being in the hospital. I had no knowledge of who I was and no memory. I attribute all my recuperation to The Jewish Home and their staff and management. I would not be able to go home if it wasn't for all of them. They brought me back to myself. The care is excellent – the management and workers can't be beat. If it wasn't for them I wouldn't have been able to regain my memory, strength, and mobility to function like I did before I came to The Jewish Home for Rehabilitation & Nursing.
I thank everyone for their help. I've been in other Rehabs before and I was never treated as well as I was at The Jewish Home!"
– Gwendolyn Meisner
---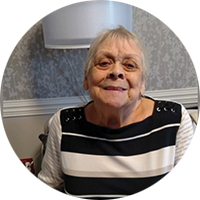 "I'll never forget my experience at The Jewish Home. The atmosphere is a pleasure and nothing like a rehab – it's more like a vacation. I encountered many employees and I could not choose the best because they were all excellent. Not only well-trained and disciplined, they afford the care and comfort that I have never found by another rehab, and I've been to a few.
They care personally for each patient and I will personally miss everyone that cared for me at The Jewish Home. I can honestly say it is hard to leave such a wonderful place."
– Patricia Cheesman
---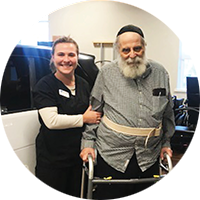 "I chose The Jewish Home for Rehabilitation & Nursing after experiencing complications at another facility. I am extremely happy with my rehabilitation progress. The therapists treated me with the highest level of dignity.
Thanks to my Rehabilitation Team I will be able to meet my goals towards recovery. The nursing staff was excellent and took very good care of me."
– Mischa Stollman
---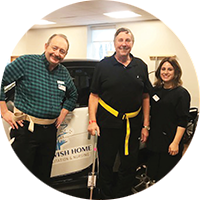 "I came to The Jewish Home for Rehabilitation & Nursing for subacute rehabilitation after having a Total Knee Replacement at Jefferson Health North East Hospital in PA. I knew I was in good hands with my Orthopedic Surgeon Dr. Booth, one of the top knee surgeons in the country. To my surprise, my fiance found The Jewish Home for Rehabilitation & Nursing in Freehold just around the corner from my house. I cannot express how unbelievable the rehabilitation that I received was. My therapists, Michelle and Preston, worked together to explain to me what we were doing every step of the way. They are so patient and caring, yet also firm, and got me back to walking! The staff was so kind and helpful and met all my needs.
Thank you Jewish Home for all you do!"
– Larry Karper
---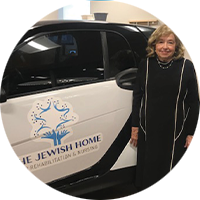 Truly An Authentic Jewish Experience
"I selected The Jewish Home for my ongoing care as I was advised by your marketing team that The Jewish Home is deeply interested in being a significant influence in landmark rehabilitation and nursing care for the Jewish community at large, in addition to fulfilling The Jewish Home patients' and residents' high standards of kosher dietary requirements and providing a traditional Jewish synagogue led by a competent Orthodox Rabbi to enhance and guide patients' spiritual practices during the process of a FULL Shabbat And Yom Tov experience and beyond. This then was the deciding factor to recover at The Jewish Home.
I wish to take this opportunity to thank the Administrator of The Jewish Home for the cordial reception I received upon my arrival from the hospital for a period of recuperation, exceptional nursing, and rehabilitation care.
I found my room to be very clean and comfortably appointed, and I especially appreciated there was no pause or hesitation on behalf of the dedicated nursing, rehabilitation, dietary and rabbinic staff to ensure that the personal attention I required for my care would be accomplished.
I am sure I will recall with pleasure my rehabilitation at the Jewish Home. I wish to extend my heartfelt appreciation to Rabbis Josh and Michael for making my Succos experience so meaningful and inspiring.
Congratulations to The Jewish Home on your initial accomplishments and my prayerful wish is that with G-d's help you go higher and higher.
With Gratitude,
Mrs. Rivkah Schneirson
---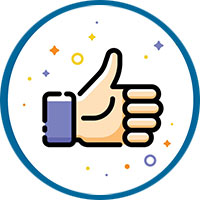 "I was in another facility prior to coming to The Jewish Home for Rehabilitation, and the therapy here is fantastic. People are so friendly and the food is delicious, I feel at home. I'm happy mostly about the night shift, 11pm-7am. The staff always answer my call bell, and they try to help me go one step and beyond!"
–Joram Heilbronner
---