Marquis Health Services Sites
>
The Jewish Home for Rehabilitation & Nursing
>
News
>
In Honor of National Social Work Month, Meet our Social Worker: Jennifer Livingstone
In Honor of National Social Work Month, Meet our Social Worker: Jennifer Livingstone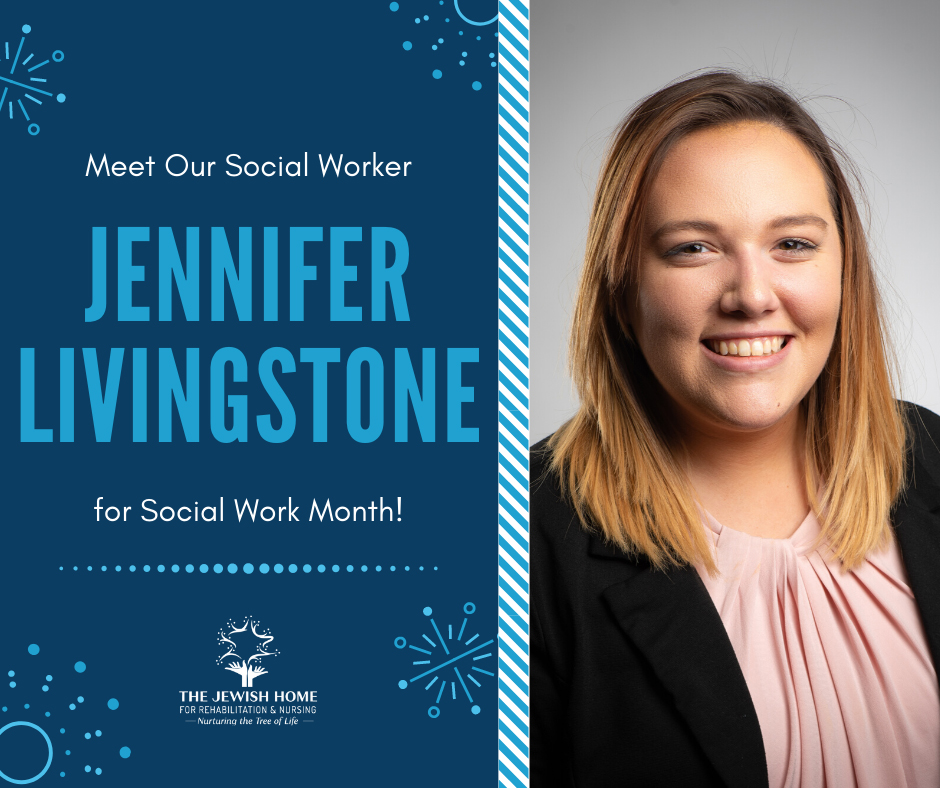 Although COVID-19 delayed a few of our plans for March nothing will get in the way of honoring our social workers for National Social Worker Month we invite you to get to know Jennifer Livingstone, Director of Social Services here at The Jewish Home.
Q. How did you discover you wanted to be a social worker?
A. I first discovered I wanted to become a social worker while working and volunteering in the activities department of an assisted living facility. At the time I had met the social worker for the building and got to know more of her role and fell in love with not only the population, but the relationship social workers build with the residents, their families and other staff.
Q. Do you have a quote or mantra you live by?
A. Not to sound cheesy, but a quote that stuck with me through undergrad that I currently have hanging around my room is "Be the change you wish to see in the world."
Q. What do you think the greatest challenge is being a social worker is today?
A. At this time I would say the greatest challenge is the balance between being an advocate for your residents and families while also being realistic regarding obstacles and limited resources available today for this population.
Q. What is the highlight of your work week? And why?
A. The time I get to spend with my residents socializing on the unit and assisting in an activity program. It is my favorite part of the week because I have the opportunity to continue building my relationship with the residents.
Q. What advice would you give to others wanting to get into the social work profession in a sub-acute rehab/long term care setting?
A. The work can be difficult at times, but it is honestly one of the most, if not the most, rewarding jobs. I enjoy going to work every day because each day is different and you never know what is going to happen.
Thank you, Jennifer, for everything you do!